The Frame Art & Design Team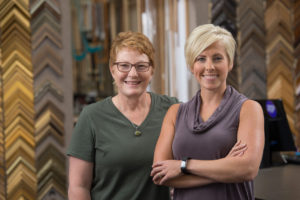 Mother/Daughter team Marta Pequignot and Kate Sorgenfrei have a mutual respect for each other that compliments their combined talents and unique perspectives. True artists – and true friends – their dynamic teamwork and leadership guarantee the best experience in the fine art of custom framing. Experts in spacial design, specialty projects, fine art, presentation, multiple layout, and thinking outside the box.
---
Meet our team! Our creative and talented staff (each with her own degree) is an artist in her own right. Together, we have the passion and the skill to understand your unique needs and bring your vision (and your art) to life.
Marta Pequignot, BFA, CPF
Certified Picture Framer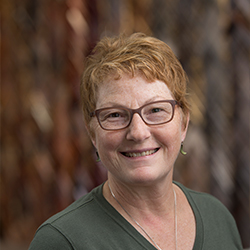 ---
Marta is the owner of Frame Art & Design. She attended the Fort Wayne Art Institute from 1975 to 1981 and earned her Bachelor of Fine Arts degree from Indiana University. Marta began picture framing while preparing her own art for a senior retrospective show for the Fort Wayne Art Institute. In 1990, she became a Certified Picture Framer with the Professional Picture Framers Association. Currently, she is the ONLY certified picture framer in the Fort Wayne area.

Marta is the third generation of formally-trained female artists in her family. Her mother was also an interior designer, so growing up in a beautiful house and living with all mediums of art gave her an early sense of spatial planning. Learning to break up a big, blank area with pictures and objects grew into a true sense of the art of wall design. She also specializes in framing materials, layouts, and multiple object shadow boxes.  Marta believes, "Everything well done is highly designed."
 Kate Sorgenfrei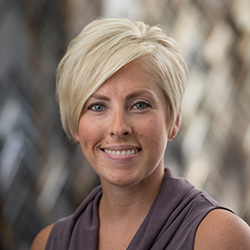 ---
Kate has worked at Frame Art & Design since she was fifteen, so she says she's, "been in the business all my life!" Kate earned an Associate of Science degree in Interior Design in 2003 from IPFW and specializes in art consultation for residential and corporate art.
"When I'm not 'working,' I'm a full-time mom to two daughters and wife to my husband, Ross," Kate says. She loves coffee, working out, helping others, and watching her girls excel in their passions – providing a listening ear and discerning advice to them.
She admits, "I love what I do – here. I can't imagine working anywhere else. This is what I was always meant to do and I can't wait to do more!"
Abi Freeland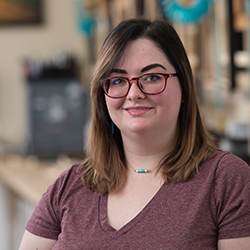 ---
Abi has worked with Frame Art & Design since 2015, after graduating from Huntington University with a degree in Animation.
She has a strong focus for color which helps when it comes to specifying the perfect mat color and frame for your art. She also does occasional freelance illustrations when away from work, constantly pushing to improve the design work.
Abi has been strongly influenced by illustration arts and graphic novels as well as very colorful artists, such as Vincent van Gogh. She lives in Fort Wayne with her cat and PlayStation®.
Nina Shannon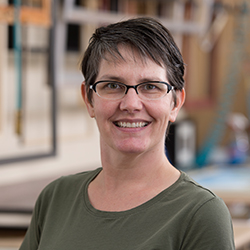 ---
Nina first became interested in art while attending LaSalle High School in South Bend. She entered (then-named) Saint Francis College in 1993 on a small art scholarship, initially interested in drawing. But she soon fell in love with photography, which became her concentration, and she studied under noted photographer Karen Thompson.
Nina started part-time here during her senior year, continuing (with time off to raise her first child) until she and her husband moved to Memphis in 2007. Around then, she acquired her first digital camera and delved into stock photography – enabling her to express herself in this art while earning an income and staying home with her daughter. It's been a huge part of her life ever since.
Nina rejoined Frame Art & Design in early 2015 and says, "It was like coming home. It is the most positive, uplifting place I've ever worked. The attention to detail and love of the work we do goes along very well with my own work ethic. There is nothing better than seeing a finished project come together and watching the customer's face when they see the final outcome."
Nina is involved with most phases of production here, and she especially enjoys building frames and mounting more difficult pieces such as jerseys, christening gowns and other fabric items.
[/cherry_col]